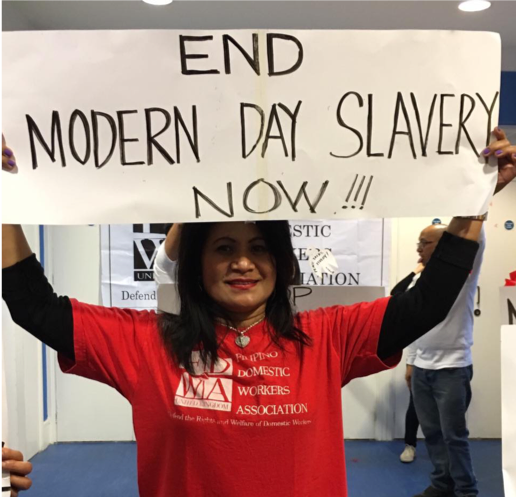 FDWA: FIGHTING MODERN SLAVERY IN THE UK
October 8, 2017
The Filipino Domestic Wo

rkers Association (FDWA) has been set up in 2013 to provide much-needed support to migrant domestic workers in the UK. They raise awareness about the abuse and exploitation of domestic workers in the country, whilst educating and informing the same about their rights. They help survivors of trafficking and urge fellow workers who experience the same plight to get in touch with them.
Since the introduction of the 'tied visa' system by the UK government in 2012, migrant domestic workers have become 'bound' to their employers through their visa to work in the UK, at risk of getting deported if they try to leave abusive employers. This new regime has come under a lot of scrutiny, as organisations such as Kalayaan found that the 'tied visa' actually worsened the situation for domestic workers, with levels of abuse exacerbating the phenomenon of modern slavery in the UK. Nevertheless, the government has refused to end or reform the policy.
Nevertheless, the government has refused to end or reform the policy. Moreover, the introduction of the Modern Slavery Act in 2015, a response in order to mitigate the problem and combat slavery in the UK, has done little for the migrant domestic workers under the tied-visa regime. Check-ups are rarely done as conditions of these workers in private household remain unregulated. The previous visa regime allowed a 'safety net' for domestic workers, giving them the right to flee their employers if they are abused, allowing them to change employers once they were settled in the UK, without breaching their immigration conditions and facing deportation.

Four years since its founding assembly, the FDWA is still fighting for justice for migrant domestic workers. Through timely projects and activities then and now, in co-operation and collaboration with other organisations, they have made a great impact on the migrant community and the British public, raising awareness about the plight of migrant domestic workers. Four years on and they remain steadfast in forwarding the rights and welfare of migrant domestic workers in the UK and ending modern slavery through grassroots empowerment and lobbying.

Join them! in their Fourth Annual General Meeting on Sunday, 8 October 2017 at St John's Church in Notting Hill. 
Support them! in their upcoming film show fundraiser, featuring the critically acclaimed
Filipino film 'Sunday Beauty Queen', a documentary about the domestic
workers in Hong Kong on 22 October 2017. Get more information and book tickets here.
JOIN US AT THE LONDON LABOUR FILM FESTIVAL FOR OUR  SERIES ON MODERN SLAVERY.